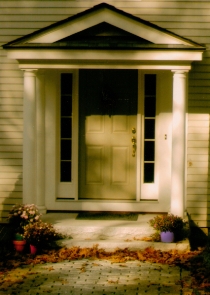 INTERIOR AND EXTERIOR CARPENTRY
The interior carpentry is where we can showcase our craftsmanship and details. This is one of the key areas that create a homes style. being a focal point, nicely done woodworking has the opportunity to impress.
As a  carpenter I love to pay attention to detail and work the wood to have smooth and proud features. Whether I'm responsible for the finishing or not, it is routine for us to include sanding the details during the process to insure that the woodwork will look its best.
Exterior carpentry, for me, is similar in that the features combine to create a homes character and how well it's crafted makes an impression. So it is with great pride that we put together our exteriors, whether it's with wood or plastics.
What we focus on, outside, is longevity. The design and construction practices are specific to creating an exterior that is built to last through the New England seasons.